WILMINGTON
Empathy Surplus Project Foundation
Attn: Charles Watts, Founder CEO
1665 West Main Street
Wilmington, OH 45117
Email
chuck.watts@EmpathySurplus.com
Virginia Beach, Virginia
1st Empathy Surplus Congress
Attn:  Anna Bruffy, 2021 President
Virginia Beach, Virginia
Email
anna.bruffy@empathysurplus.com
Your Donations Support Caring Thought Leadership Training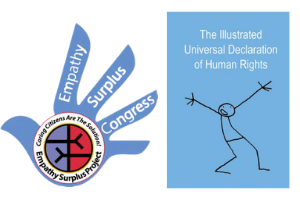 Caring Thought Leadership Core Values
Empathy
Responsibility (personal & mutual)
Strength (to act responsibly on one's empathy)
Ten-Word Caring Philosophy
Stronger Americans
Progressive Markets
Better Futures
Effective Government
Mutual Responsibility
The Empathy Surplus Project Foundation is a charitable collective thought leadership training federation headquartered in Wilmington, Ohio. It fulfills its Four Empathic Activities through member communities of practice called Empathy Surplus Congresses and its working groups. Donations are exempt from federal income taxation under section 501(a) and described in section 501(c)3 of the Internal Revenue Code. Please consider using our free framing guide - Lakoff's Words to Use to Frame Our Solution.
George Lakoff's Resources
The basic idea is this: Dr. Lakoff's resources are free and open to all. He will provide framing suggestions regularly over social media, and whoever receives them can decide how to use them, and whether to share them or retweet them.  Dr. Lakoff's process is bottom-up.
Dr. Lakoff also offers this framing service to activist organizations, media folks, and elected officials and their staff.
UNITED NATIONS GLOBAL compact resources
Caring Citizen Declaration
I am a caring citizen.
I govern with empathy.
I here highly resolve that
this nation, under God,
shall have a new birth
of freedom - and
that government
of the people,
for the people,
by the people
shall not perish
from the earth.
I am a person
with human rights.
I care for my own
Safety and Happiness
and that of others.
I am the solution
to expanding life,
liberty, and the pursuit
of happiness.
And for the support
of this declaration,
joining caring citizens
known and unknown,
we mutually pledge
to each other
our Lives, our Fortunes,
and our
sacred Honor.